---
Milano Corso Vercelli,
Milan
The strategic insertion of an architectural graft onto the body of a typical Milan building transforms its entrance into a dynamic interface that directly interacts with the pedestrian flows of one of the city's main shopping streets.
A series of volumetric movements creates a void that, by extending the public pavement, creates an entrance hall, blurring the boundaries of the building and subtly leading the passers-by deep into its different levels.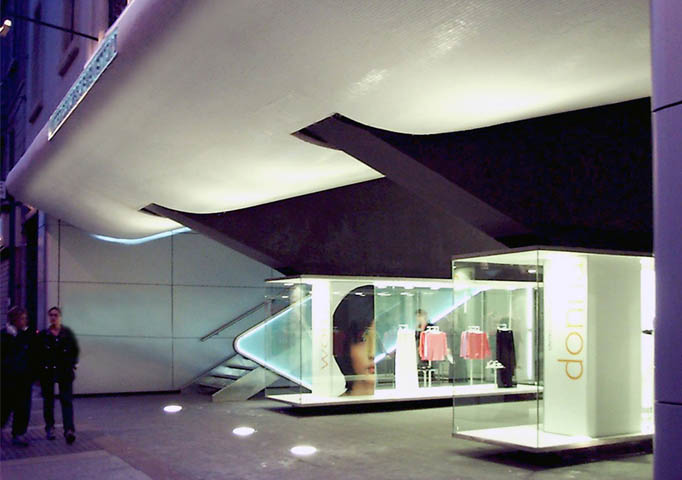 The public hall is made visible from the distance by projecting its architectural elements out from the building façade. The entrance to the public hall is marked by a large, curved white roof, covered with white glass mosaic, and penetrated by two black beams that support the building and seem to lift it up. The entrance hall is contained between two high walls, clad with aluminium panels, which together with the curved roof project out from the façade, smoothly join the street level with the cinema on the first floor. At one side of the hall an imposing staircase, entirely built in stainless steel with a glass backlit balustrade, leads to the cinema on the first floor, accompanied by the shape of the canopy.
Two floating glass boxes serve as display windows and mark the entrance to the shop, wrapping and concealing the pillars on which the black beams that support the building rest. In this way the space is defined by the white curved canopy and the display windows, focusing the flow of people and their attention. The shop entrance is distinguished by two towers clad with aluminium panels. Two large glass panels, anchored to the towers, work as windows during the day and as store doors during the night-time closure.
---