---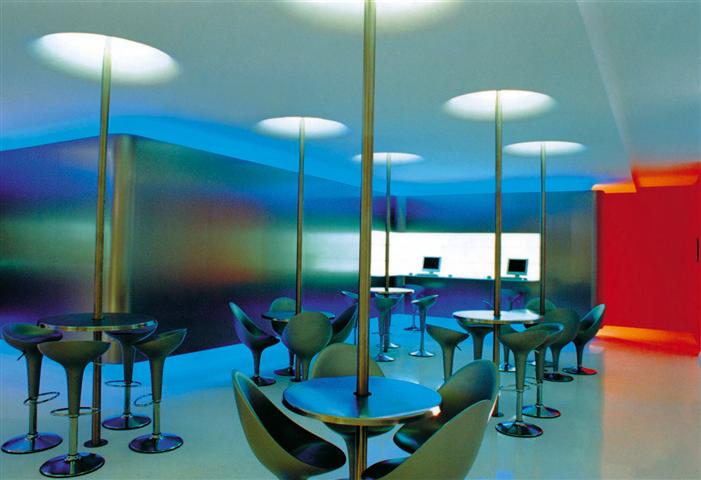 Bbar is a concept developed as a leisure facility for the Benetton megastores worldwide. It has been conceived as a smooth capsule where everything is seamlessly integrated to create a distinctive environment that engages the senses.
All the surfaces are turned, bended and joined blurring the boundaries between them to produce a sense of a softly flowing space and a lightweight immateriality that is emphasised by a very specific lighting design.


Bbar is composed by few well defined elements that charaterise the space. A long suspended metal band that moves sinuously along the perimeter of the space contains most of the bar services displayed in back-lit cuts. At the centre of the space, the stainless steel tables seem to come down from lit holes in the ceiling as if they were sliding through their supports.





The bar desk is a solid white block that becomes the fixed reference point around which the entire space is developed. A special light system slowly changes colours and softly dyes the whole space, creating different ambient moods. All the lighting system is smoothly integrated in the design.




Bbar concept has been installed in Hannover and in Hamburg, Germany.

Project for Benetton Group.



---